During the summer I took a trip to the South of France, where I stayed in Villefranche-sur-Mer for a couple of days. Villefranche-sur-Mer is a little village located in between Saint-Jean-Cap-Ferrat and Nice. It's set on a serene bay with warm coloured houses cascading down the hillside to the sea. This charming seaside village is delightful for a tranquil weekend on the coast.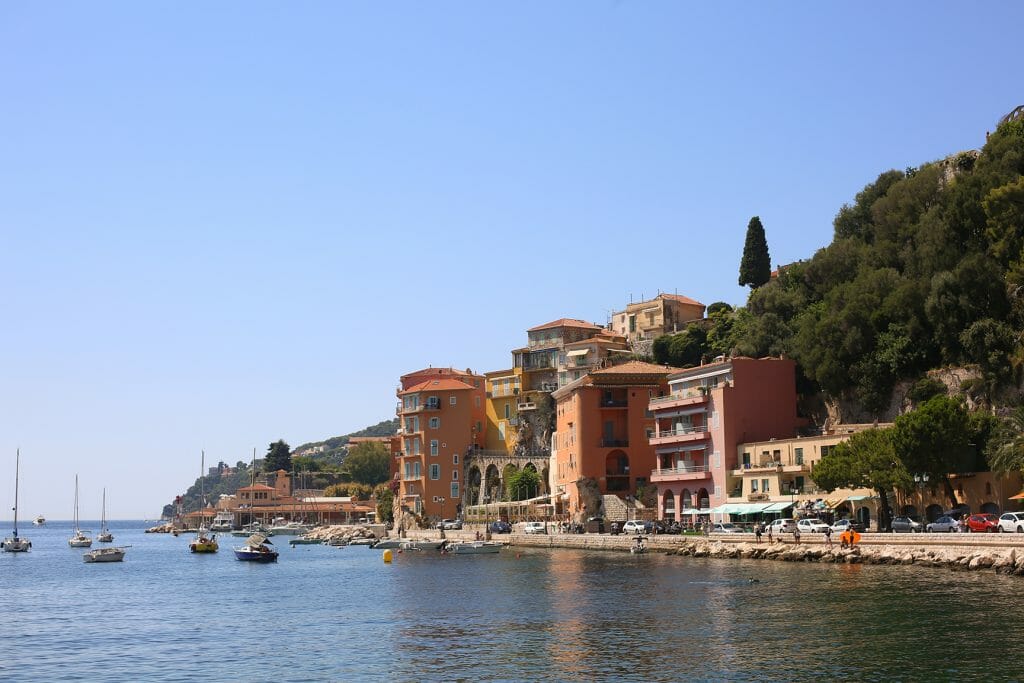 The beach has a lovely view of the enchanting little port, with the apricot coloured buildings as a backdrop. Walk up to the top – you will be rewarded by an amazing view and it's even better when you go at sunrise (or if you're not an early riser a trip at sunset is lovely too). An unmissable place to visit if you're in Villefranche is the uniquely designed Chapelle Saint-Pierre, a 14th century chapel restored by Jean Cocteau.
During the afternoons the buildings are bathed in a warm orange haze – a perfect time for taking a leisurely stroll. Wander around the little side streets and you will find a number of cafes dotted around, ideal stops to enjoy an iced coffee. For lunch or dinner there are several restaurants on the waterfront that serve freshly caught fish. One night a friend and I decided to get some pizzas from Trastevere and take them up to the top of the hill to eat while watching the sunset. A simple supper with stunning views – highly recommended!
There's a sense of serenity here compared to other towns on the Côte d'Azur, but if you do want to venture off somewhere else for the day, you're spoiled for choice. This lovely town is very central with lots of things to do – other towns nearby, such as Nice, Cannes, Monaco or Saint-Jean-Cap-Ferrat, can be easily reached by taxi or train.
Thanks for reading!
Holly
x